Overview
Details
Overview

Direct Audio Books Delivery
No CD and no computer required
Learn more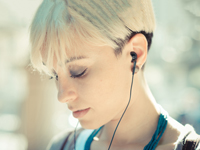 Ready for the future of wireless content access
Imagine having the latest novels, magazines, your favorite music, audio-described films, texts and your own voice recordings, all in the palm of your hand. With its new lightweight and compact design, Victor Reader Stream delivers hours of listening pleasure ANYWHERE!
Far more than just another audio player, the new Stream's wireless capabilities open up the world to people who are blind or visually impaired.
Smaller
The new Victor Reader Stream is 28% smaller than its predecessor. Its new sleek design is thinner and features rounded shapes, making it more comfortable to hold.
Smarter
The new Stream opens new possibilities for receiving content wirelessly, from books and newspapers to podcasts and radio. It also features a louder speaker, superior text-to-speech, and improved recording.
Simple
The high contrast, robust, tactile keypad and popular Victor Reader bookshelf navigation still make this Stream the easiest to use hand-held player on the market.
A multimedia library in your pocket
Taking your books, music and much more everywhere you go is so easy with the new Victor Reader Stream's excellent features:
Supports up to 32GB removable SD cards and external USB flash drives;
Read books from DAISY libraries: NLS, Bookshare, Learning Ally;
Enjoy books and music from iTunes;
Play text documents with built-in text-to-speech from Acapela.
What's in the box
Power adaptor NA USB-A 5V 1A
Micro USB cable Short
Micro USB cable long
Earbuds
SD card
Silicone case
Color Booklet
Warranty Multilingual
Features/Specs
Features/Specs
Product Brochure
Exceptional user friendliness
The new Victor Reader Stream has been designed with user-friendly, real-world features:
Replaceable battery recharges via your computer USB or USB AC adapter;
Built-in speaker and headphone jack;
Self-voicing controls; Read at your pace by controlling playback speed;
Sleep key – playback stops if you fall asleep;
Information key announces book title, time elapsed/remaining, total pages and more;
Where Am I key announces reading position such as page, chapter, or song title;
Key describer announces the functions of each key;
High contrast, robust, tactile keypad for ease of use and long-term service;
Free software updates over wireless network.
Record audio with a simple touch
Use the built-in mono microphone or your own stereo microphone to record voice notes,
to-do lists, classroom lectures or from a line-in device.
Navigate quickly and easily
The new Stream has simple navigation to deliver the ultimate user experience. Locate files, books, audio recordings quickly and simply with just a key press:
Browse DAISY books by chapter, section, or phrase;
Move through text files by paragraph, sentence, word;
Go To Page key finds pages just like turning to a specific page in a printed book;
Never lose your place: your Stream automatically resumes where you left off;
Bookmark important passages — even record your own voice annotations;
Navigate MP3 books and music by folder or file.
Specifications
Dimensions: 114 x 62 x 18 mm (4.5 x 2.4 x 0.7 in.)
Weight: 110 g (3.9 oz) including battery
DAISY formats supported: 2.0, 2.0.2, and ANSI/NISO Z39.86 2002/2005 (DAISY 3)
Audio formats: MP4-AAC, AMR-WB+, FLAC, MP3, Ogg Vorbis, Speex, WAV
Text-to-speech: Acapela (2 voices) to play brf, txt, html, xml, DOCX, EPUB
SD slot supports up to 32GB SDHC cards
Li-Ion battery: Rechargeable via USB or USB AC adapter
Recharging time: 5 hours via AC adapter
Wireless protocol: IEEE 802.11 b/g/n
Operating time: Up to 15 hours on headphones (may vary depending on content and player settings)
Built-in speaker and 3.5 mm headphone jack
Micro USB port for connecting to external USB flash drives or computer
Recording format: PCM, Wav, MP3
Microphone: Built-in mono and 3.5 mm stereo jack
Power/data jack: Micro USB
Firmware upgrade via SD or online
Real-time clock with date/time announcement
Support
Support
Click here for more details: Support
Testimonials
Contact Me for a Free Demo
Free Demonstration!
Let us know how to reach you to arrange a no-obligation free demonstration
You may also be interested in the following product(s)
*30-day money back guarantee excludes software purchases and products that are produced by other companies than HumanWare. Please refer to the return policy for more information.